Trusted Milwaukee Plumber
Reliable Plumbers Serving Milwaukee County & Waukesha County
When you're dealing with a plumbing situation in your home, you need a reliable company that you can trust to remedy the situation in a fast and efficient manner. Quickly fixing a leaking pipe or replacing a sewer line can minimize damage and save you a lot of money. With Rozga Plumbing Corp., you get the customer service you want and the experience and efficiency you deserve. We are the most trusted plumbing company in Milwaukee County that handles a wide range of residential plumbing problems.
Some of the most common plumbing services we offer include:
Plumbing system smoke test/leak investigation
Sump pump and battery backup systems
Faucets
Frost-free outdoor hose faucets
Water softeners
Well tanks
Pipe repairs
Pipe thawing
Gas leak detection and repairs
Gas line installation
Emergency generators
Plumbing problems? Don't hesitate to contact our Milwakee plumbers for immediate assistance. We offer 24/7 emergency services. Contact us today at (414) 240-0580.
Trusted by Our Community Since 1981
We pride ourselves on being able to solve issues and problems others have not been able to solve. We provide hundreds of hours of both in-house and off-site continuing education training to keep our plumbing professionals current with the latest products, tools, code changes, and technology to make sure we are ahead of the curve and be able to repair your problems with the most long-term and economical approach.
When you hire Rozga Plumbing Corp., you get a team of professionals who:
Are fully bonded and insured
Fully explain all work and answer any questions
Clean up after they are done with the job
Guarantee your satisfaction
From the beginning, we have been encouraged by and have grown tremendously with the help of honest customer feedback and word of mouth advertising! Rozga Plumbing is an A+ Better Business Bureau contractor and has been awarded Angie's List Super Service Awards for the past 7 years in a total of 10 categories. With hundreds of A+ Grades earned from Angie's List customers and leading the industry with our positive Google reviews, you have assurance from your friends and neighbors that we are the ones to take care of you!
Plumbing Code Violation Corrections
Did you just receive a Home Inspection or City Code Violation Report with a couple items of concern or even a full page hazard list? Forward it to us-- we will decipher the Code and get you in compliance.
Rozga Plumbing works with all municipalities and is on many of their preferred contractor's lists. We reach out to the inspectors and let them know we are on the case and we submit the plumbing code violation permit immediately to show your intent so that you remain in good standings with the least amount of friction during your home sale or time sensitive deadline. With our involvement, we do our part to make sure you meet the deadline before fines are issued.
Are you forward thinking and just making sure there are no safety concerns or 'surprises' in an upcoming home sale? We also perform detailed plumbing inspections and diagnostic reports along with our recommendations and estimates to correct.
Plumbing System Inspection and Condition Reports
Typically, these plumbing inspections are performed prior to a home sale or purchase. We also work in conjunction with your home inspector, as they will see a base layer problem and then refer to us for a more in-depth, professional take to determine the level of concern.
100% of homes will benefit from having our trained eye walking through them. Even if there is no hazard present, we may have some advanced and affordable suggestions to help make life a little more comfortable.
Contact us to schedule a detailed plumbing inspection and diagnostic report with a Milwaukee plumber.
Laundry Tub Installations
Laundry tubs are truly the unsung hero of the basement. We utilize them every day for our clothes washer draining—sometimes much more for larger families—and ask them to take whatever we throw at them—endless washer lint, paintbrushes, and tool washings.
If you notice a leak, it most likely is coming from:
A broken faucet
Corroded shut-off valves
Patched-up drain connections
Cracks in the concrete tub
One of the most appreciated conversions we offer is the night and day difference you receive with our laundry tub, faucet, and clothes washer connection package! Within one day we can have the old one removed and leave you with a clean, high-quality fiberglass tub with a faucet and washer connections installed.
Bradford White Water Heaters
Rozga Plumbing is one of the largest installers of Bradford White Water Heaters in the state. We have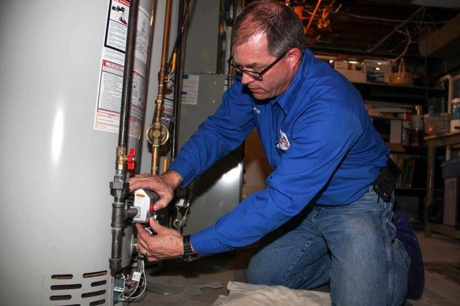 priority availability and always have what you need in stock. Coupled with our emergency service and dispatch team, we can get your water heater leak stopped and your hot water restored fast!
We repair all makes and models but recommend and install Bradford White for our replacements and upgrades. When you call, our experienced customer service reps will help you choose the right size and efficiency for your family's needs. We offer extended warranties available for up to 10 years as well as water heater catch pans with water alarms that add even more protection in the future.
Contact our Milwaukee plumbers now at (414) 240-0580 for immediate service.